In this article, you will learn how to make LED Chaser using IC4017. The IC4017 is one of the popular digital integrated circuits which can be widely used in the digital logic projects. We will get into deeper about IC4017 below.
Lets gets started…
Components Required
IC4017
5mm LEDs (Any colour – 10)
1K ohm Resistor – 1
5V Power Supply
Custom PCB
Male or Female Jumpers
Tools
LED Chaser Circuit Diagram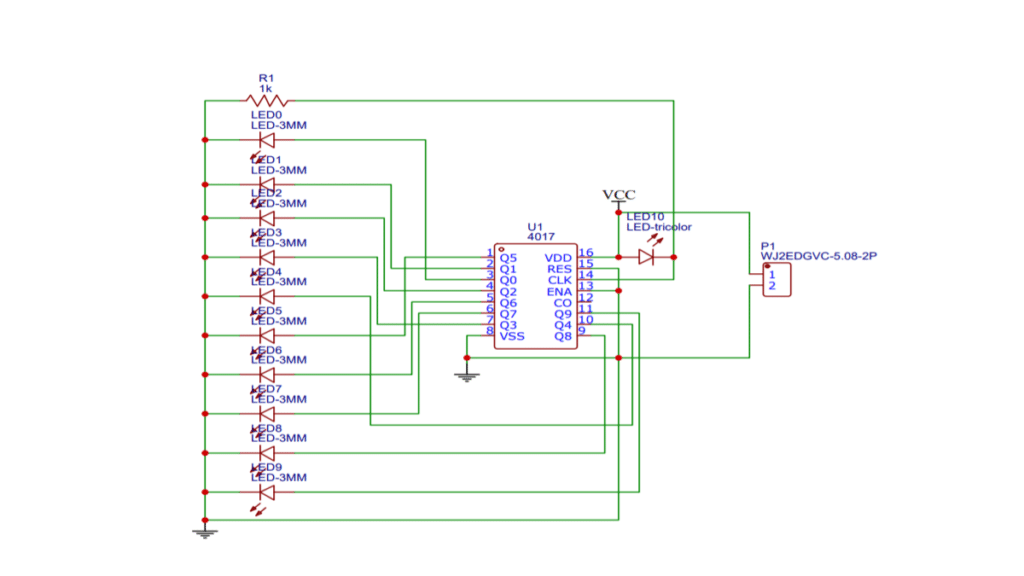 Working of IC4017
The CD4017 is a CMOS Decade counter IC. CD4017 is used for low range counting applications. It can count from 0 to 10 (the decade count). CD4017 is as 'Johnson 10 stage decade counter'.
Pins 1 to 7 and 9 to 11 are outputs pins. These pins changes to 'high' level one by one (one after another) in a sequence. For each clock signal, each pin goes high in a sequence.
Constructing the circuit
Connect the components cautiously according to the circuit given above. As clocking the clock pin , the LEDs blink sequentially. This can also be used as digital dice.
We have designed a simple custom PCB. You can download from the below link.
I recommend you to order from PCBWay, as they one of the leading professional PCB manufacturer and they also offer stencil and fabrication services. You can get professional-looking PCB for a cheaper price as they offer coupons. You can redeem the coupon and order PCBs for cheaper. PCBWay also sponsors PCBs under educational PCB programs, you can try it out. PCBWay also has an amazing shared collection of PCB projects, you can join and share them as well.
That's it guys be creative and enjoy the projects.
If you have any queries feel free to connect us on social handles Facebook